November 18 , 2016. MAPS.ME for­ iOS and Android now supports creating a route to destination with Uber. A ride can be requested in any location of the world where Uber is available.
MAPS.ME users are presented with a new option to reach their destination. Now, in addition to the existing options (by car, by bicycle, or on foot), MAPS.ME will suggest taking Uber. The application will show the best route, the approximate fare and duration of the ride.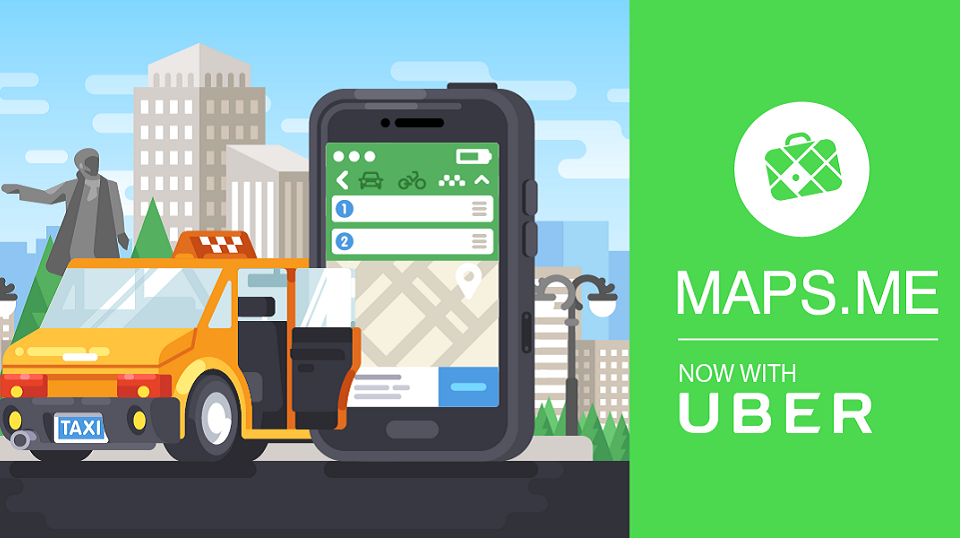 MAPS.ME will show all Uber options available in the selected region (for example, UberX, UberSELECT, or UberBlack are available in Moscow). Clicking one of the options launches the Uber app automatically. All the information provided by the user, such as the pickup point, destination and the selected Uber option, will be filled in automatically, so the user will only have to confirm the Uber request. If a user doesn't have the Uber app installed, a prompt to do so will appear.
The new option helps to get to a destination faster and to plan a trip in detail. A traveler may now open MAPS.ME app and find out at once how much a ride in a foreign city (from the airport to a hotel, for instance) would last and cost.
"Integrating useful services like UBER and Booking.com in MAPS.ME is just a first step on our way to making users travel experiance easier. We want our users to spend less time searching for local services and sights while travelling or at home."says Eugene Lisovskiy, MAPS.ME CEO.
The application is available on the App Store and Google Pla.